Your SIA Summit is not shaped only by the official program, but also by the side experiences. Join us in various explorations of the local ecosystem and fun activities.
Photo Exhibition "Journey to Impact"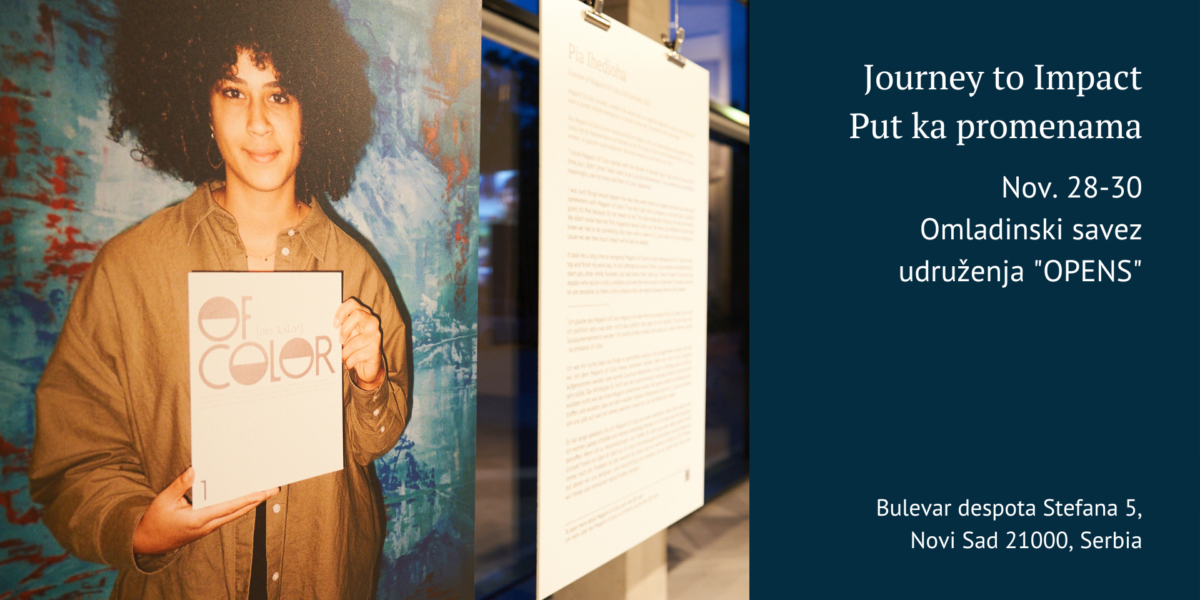 Join us for the photo exhibition opening on 28.11. at 19:30 at Art Corner of SPENS Center (Sutjeska 2) followed by a light cocktail. The exhibit will be open until 30.11.2023.
Journey to Impact spotlights the incredible lives of young people building solutions to the most pressing social and environmental issues of our time, whose stories mostly go untold. It explores their complex relationship with themes such as identity, leadership, and purpose, diving into what it means to try and change the world. Built around a collection of analog portraits and honest interviews with young agents of change from around the world, Journey to Impact shines a light on those considered "superheroes" in today's society and reminds us all of our innate desire to live a purposeful life.
All profiled social entrepreneurs are members of the Social Impact Award community, one of the world's largest communities of young social innovators under 30. Social Impact Award empowers youth in over 25 countries to transform society through impact-driven entrepreneurial journeys in an international community. Commissioned by SIA, all analog portraits were shot by Nikolas Rode, video interviews by Fraem Films, and the backdrop was painted by Jeremy Miedler in official Social Impact Award colors.
Social Innovation Safari
On Wednesday, 29. 11. 2023 we will embark on a Social Innovation Safari of Novi Sad as we will introduce you to nine outstanding examples of social innovation, each leaving an indelible mark on the community. These transformative initiatives encompass a diverse range of causes, reflecting the rich tapestry of positive change in the city: Iz Srca Bačke, TH-INK, Novosadska biciklistička inicijativa (Novi Sad Cycling Initiative), Restart kućni servis, EXIT Foundation, Čepom do osmeha, Liceulice, Patrija and Opens.
Community Tombola
Community Tombola is a chance to connect with other Summit participants in a playful and informal atmosphere. To participate, you need to bring a small item as a gift (valued between 2-10€) and/or buy a token throughout the duration of the Summit for 2€. The more tokens you buy, the more you increase your chances of winning gifts.
All the proceedings from tombola will be donated to organizations providing humanitarian relief in Armenia and Palestine.
Tombola winners will be announced on Thursday, November 30, starting from 20:00, at ArtClub (Radnička bb, Novi Sad).
Hangout Spot
Unwind at Gradska Pivnica (Njegoševa 6) —a hub of great atmosphere, authentic aesthetics, and exceptional drinks. Join us daily for a relaxed atmosphere to connect, reflect, and celebrate the impact journey.
Summit After Party
Wrap up the SIA Summit experience at ArtClub (Radnička bb, Novi Sad) with the official Summit After Party, starting right after the Tombola, on Thursday, November 30. Celebrate the impact, connect with fellow attendees, and continue the conversation in a lively and vibrant atmosphere.